What people are saying about us ❤️
Veronica Sanchez
2022-08-11
Este centro ha sido una bendición para mi hijo, en pocos meses he visto cambios significativos en su conducta y el trato de las BCBA ha sido excelente desde el primer momento Estoy súper agradecida y los recomiendo con los ojos cerrados
I'm so happy I found this center for my son. For two years, I've had the hardest time trying to find an ABA therapist that was experienced until I found the Super Kids Center. Everyone there is really amazing and friendly every time we're there. They've gone above and beyond to make sure my son gets the help he needs. During the evaluation, I told Innia that I needed to find my son additional therapists for Speech and Occupational and she helped me get that squared away too. Thank you so much to the entire team! A special thank you to Innia, Daniela A., Daniella O., Ericka Ann, Cindy, Mr. Pedro, and Miss Isley for the love and support you've given my son. I truly appreciate all you!
Yusbeth Ferrer
2022-04-12
Este es el mejor lugar donde pudo haber llegado mi hijo, llevamos ya casi 3 años aquí y desde que llegamos al día de hoy su progreso ha sido excelente la atención de La Sra Inna, y sus terapista Isley, Lia, Gabriela, Jessica y su BCBA Daniela nos han ayudando y orientado en todo el proceso, es un gran lugar, mi hijo no quiere faltar ni un día 🥰🙏🏻
Daniela Alzate
2022-04-01
Every time I wondered what would be like to work in a place that makes you feel like home, and this is it!, the love, warm words and passion you will feel here is unconditional!. We don't see this just like a business, wee see it like a family, we care for the others and specially for our clients. This is the best place you can think of work or receive services!
Mi experiencia como madre ha sido maravillosa, mi hijo es feliz con la atención que le brindan y se con certeza que mi hijo recibe amor y mucho profesionalismo. Siempre se los dire al personal de Super Kids y a su terapista Estrella "Michael " GRACIAS 🙏.
Oriana Carrasquel Márquez
2021-09-23
Veronica Guia Elias
2021-09-08
The best place ever! Being part of the team has been a dream come true as a professional. We take our jobs very seriously, following very strictly the BACB ethics and guidelines, CDC protocols and we go beyond our clients and families expectations... The owners and supervisors are responsive in giving high quality of services... THE NEW PLACE IS AMAZING! Can't wait to move an keep helping kids and families! Our motto and value is: Together we make it better! I believe and live within... The current RBTs that make part of the therapist team ARE THE BEST PROFESSIONALS THAT I HAVE BEEN WORKING WITH... I'm soon proud to be part of CKDC Family...
Natalie Parish
2021-09-02
Do not send your children here if you care about their health! This business is extremely dirty which is a huge issue considering we are in the middle of COVID. There are roaches constantly crawling throughout the place, no one disinfects or cleans anything that all of the children use, especially the toys and the bathrooms, and they do not even make sure the kids, and areas that the kids are using, are properly cleaned up before and after doing things like eating and using the bathroom.
Angelica Baker
2021-01-06
This place is WONDERFUL! Everyone here is so awesome and focused on the care of the individual child. The front office staff (Paula) is so warm and caring. She helps with placement and with the insurance companies. The BCBA and the RBT's that work with the children are so attentive and they KNOW your child and make sure the children are comfortable with them from the start no matter the level. I couldn't ask for better service and I am SO thankful to have found them. The way my son is thriving is beautiful. I am excited for the future.
---
THIS IS GASOLINE TO US!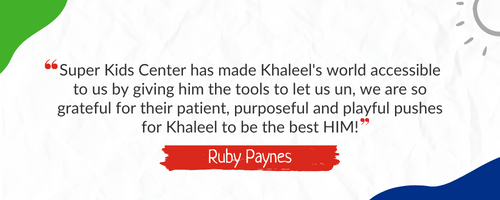 We are so thankful for having such an amazing community. Together, we truly make it better!❤️
---
Together, we make it better! ✨