What people are saying about us ❤️
Alex Dominguez
2023-09-20
We can only speak to the center located on NE 12th Avenue. They are wonderful! Extremely patient, great communication, extremely engaging! Our daughter was very anxious to start, but they were excellent in adapting to her needs and disposition. They send us daily updates and reports about her days and time spent at the center with goals they worked on and that can use improvement. They're very clean, the staff is extremely friendly and accommodating. Most importantly, our daughter is happy attending her sessions and always looks forward to seeing her therapist. Highly recommend.
Super kids ABA is amazing I can't thank super kids enough for everything they did for my daughter. She had ABA from 18 months to 4yo. We only left this amazing team because we moved overseas. Not only they have amazing professionals but also very caring people. My daughter was a baby when she started and didn't speak, nowadays she speaks and expresses herself perfectly. Her development and improvements were amazing!! Innia, Ms Daniela and all the RBT's are very flexible, always tried their best to work on our schedule. Every staff member is friendly with us and our daughter. The team is always creating nice activities for the kids to interact, develop and have fun! I will be forever grateful!
I cannot summarize how I am so happy to have found this place, it is beyond words! This place is so amazing and Stephanie who was helping out our son was not only very patient with him but loving. I would highly recommend this facility if your child needs ABA therapy. They will also prepare your child for Pre-K which is super helpful.
They change our life everything is perfect I don't have the words to explain how amazing the rbt and the all staff working hard to make my kids life better and easy thank u very much
Veronica Sanchez
2022-08-11
Este centro ha sido una bendición para mi hijo, en pocos meses he visto cambios significativos en su conducta y el trato de las BCBA ha sido excelente desde el primer momento Estoy súper agradecida y los recomiendo con los ojos cerrados
I'm so happy I found this center for my son. For two years, I've had the hardest time trying to find an ABA therapist that was experienced until I found the Super Kids Center. Everyone there is really amazing and friendly every time we're there. They've gone above and beyond to make sure my son gets the help he needs. During the evaluation, I told Innia that I needed to find my son additional therapists for Speech and Occupational and she helped me get that squared away too. Thank you so much to the entire team! A special thank you to Innia, Daniela A., Daniella O., Ericka Ann, Cindy, Mr. Pedro, and Miss Isley for the love and support you've given my son. I truly appreciate all you!
Yusbeth Ferrer
2022-04-12
Este es el mejor lugar donde pudo haber llegado mi hijo, llevamos ya casi 3 años aquí y desde que llegamos al día de hoy su progreso ha sido excelente la atención de La Sra Inna, y sus terapista Isley, Lia, Gabriela, Jessica y su BCBA Daniela nos han ayudando y orientado en todo el proceso, es un gran lugar, mi hijo no quiere faltar ni un día 🥰🙏🏻
Daniela Alzate
2022-04-01
Every time I wondered what would be like to work in a place that makes you feel like home, and this is it!, the love, warm words and passion you will feel here is unconditional!. We don't see this just like a business, wee see it like a family, we care for the others and specially for our clients. This is the best place you can think of work or receive services!
Mi experiencia como madre ha sido maravillosa, mi hijo es feliz con la atención que le brindan y se con certeza que mi hijo recibe amor y mucho profesionalismo. Siempre se los dire al personal de Super Kids y a su terapista Estrella "Michael " GRACIAS 🙏.
---
THIS IS GASOLINE TO US!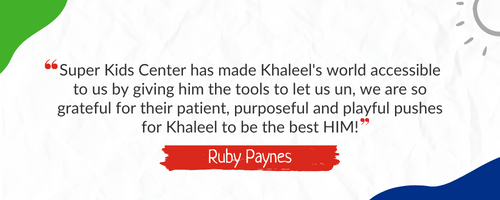 We are so thankful for having such an amazing community. Together, we truly make it better!❤️
---
Together, we make it better! ✨